Andrievsky, Dmytro [Дмитро Андрієвський] – architect, political activist, writer; born on 27 September 1892 in the village of Bodakva (Lokhvytsia raion, Poltava oblast, Ukraine; at that time – Lokhvytsia county, Poltava gubernia, Russian Empire); died on 30 August 1976 in Dornstadt, Germany; buried in Munich, reburied in 2010 in Lychakiv Cemetery in Lviv, Ukraine.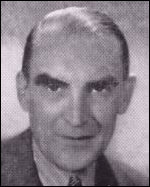 Andrievsky began his higher education in Petrograd (now Saint Petersburg), from where in 1917 he returned to Ukraine. From the end of 1918 to 1920 he was a member of the diplomatic mission of the Ukrainian People's Republic in Switzerland. In 1920 he moved to Belgium, where he completed his studies, qualifying as an architect, and began his professional career. In 1927 he became a member of the Leadership of Ukrainian Nationalists (Provid Ukrainskykh Natsionalistiv – PUN) which was tasked with organising the 1929 congress at which the Organisation of Ukrainian Nationalists (OUN) was founded. At this congress he was confirmed as a member of PUN, and was subsequently authorised to lead OUN activities in Belgium. In the 1930s he was also head of the Ukrainian National Council in Belgium and secretary of the European Association of Ukrainian Organisations Abroad. He visited London for meetings with OUN representatives Eugene Lachowitch and Stephen Davidovich, and with the director of the Ukrainian Bureau, Vladimir Kysilewsky. After the split which occurred in the OUN in 1940 he became a leading member of the OUN (Melnykivtsi). During the Second World War he moved to Germany. In January 1944 he was arrested by the German authorities and subsequently imprisoned in concentration camps.
After the war Andrievsky returned to Belgium. In February 1946 he came to the United Kingdom and joined the staff of the Central Ukrainian Relief Bureau in London. From that time until May 1949 he lived partly in London and partly in Belgium. He also undertook two speaking tours of Ukrainian communities in North America (November 1947 – April 1948, September 1948 – February 1949). On the second tour he represented the Ukrainian National Council (UNC) formed in Western Europe in 1948.
From mid-1949 he lived mainly in Germany. In 1950-1955 and in the 1960s he was a member of the Executive Body of the UNC. For a time he was head of the Association of Ukrainian Journalists in Germany. For a number of years he worked in the editorial office of the Novyi Shliakh (New Pathway) newspaper in Winnipeg, Canada. He is the author of Rosiiskyi koloniializm i sovietska imperiia (Russian Colonialism and the Soviet Empire; Paris, 1958) as well as numerous articles on Ukrainian nationalism and international politics.
Bibliography
Martynets, V. Ukrainske pidpillia: Vid U.V.O do O.U.N. (Winnipeg, 1949), pp. 154, 159-162, 201-205, 210-211, 282-284
Mirchuk, P., Narys istorii Orhanizatsii Ukrainskykh Natsionalistiv: Pershyi tom, 1920-1939 (Munich – London – New York, 1968), pp. 65, 76-80, 86-92, 481-483, 503-507, 514, 520, 527-529
Yevhen Konovalets ta yoho doba (Munich, 1974), pp. 654-670, 694-695, 913-914
Zhdanovych, O., 'Smert sl. p. inzhenera Dmytra Andriievskoho velyka vtrata dlia usiiei ukrainskoi spilnoty', Ukrainske Slovo (Paris), 12 September 1976, p.1
Frolick S. W. Between Two Worlds: The Memoirs of Stanley Frolick, ed. by L. Y. Luciuk and M. Carynnyk (Toronto, 1990), pp. 143-146
Luciuk L. Y. Searching for Place: Ukrainian Displaced Persons, Canada, and the Migration of Memory (Toronto-Buffalo-London, 2000), pp. 86, 92, 175-176, 359, 367, 419, 431, 442
Kucheruk, O., 'Dmytro Andriievskyi i protses pidhotovky Pershoho konhresu ukrainskykh natsionalistiv 1929 r.', Ukrainskyi vyzvolnyi rukh: naukovyi zbirnyk (Lviv), no. 8, 2006, pp. 76-101
Dokumenty i materialy z istorii Orhanizatsii Ukrainskykh Natsionalistiv. Tom 2, Chastyna 2: Lystuvannia Ye. Konovaltsia z D. Andriievskym (1927-1934 rr.), ed. by Yu. Chernenko (Kyiv, 2007), pp. 5-34
Martynowych, O., 'A Ukrainian Canadian in London: Vladimir J. (Kaye) Kysilewsky and the Ukrainian Bureau, 1931-40', Canadian Ethnic Studies (Calgary), vol. 47, nos. 4-5 (2015), p. 280